Have I ever told you that "The Little Mermaid" is my favorite Disney movie?
That sometimes I tell my friends I'm going to soak in the tub and pretend I'm a Mermaid to de-stress?
Or, that I absolutely ADORE the ocean, lake, any body of water that I can float in really....
Well... if not, there you have it!
I love all things Mermaid related.
I long for summer here in Minnesota when I can go to the beach and float in the lake, soaking up the sun and feeling weightless and free. I long for the day when I can go back to the ocean... the white sandy beach and just chill.
Until then... I found these little pretties one afternoon while digging around on Etsy!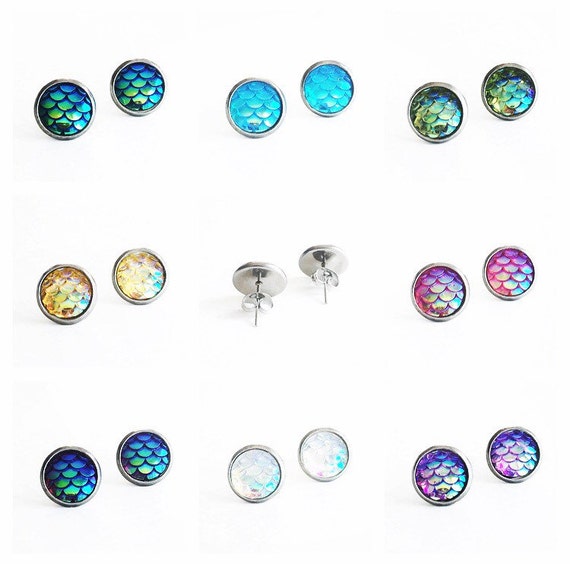 Aren't they just gorgeous!
My cousin and I had an entire conversation that day and another about how much we loved them, how great the price was, and what colors we wanted to get first. You may wonder who gets this excited over earrings, or anything mermaid for that fact, but the truth is... I do, and I think many, many others do as well.
I've ordered twice from California Ave, and have had several conversations with the owners. The customer service is absolutely wonderful. (Some of the best I've come across on Etsy). They answer messages courteously, in a timely manner and are very helpful.

California Ave has other types of earrings as well.
Beautiful Faux Druzy, Ombre Glitter, Glass Cabs with designs and more. You can also find some cute midi rings, wish bracelets, and cool necklaces and hair ties! Prices are great, and they combine shipping so head over now and check it out!
Get yourself a little something or perhaps buy something as a gift for that special someone in your life!

I'm already planning my next order ( birthday in March and wedding anniversary in April) I'll have all nine colors before you know it!

What's your favorite color of the mermaid scale earrings? Let me know with a comment below!